---
Five Reasons Why the Video Industry is Pivoting to a Cloud Environment
By Eric Gallier, Vice President, Video Solutions, Harmonic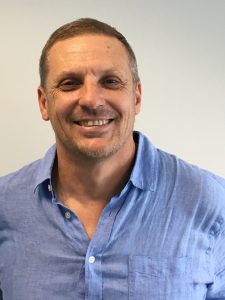 Cloud adoption is becoming ubiquitous in all industries, including the video market. In the past
year, 57% of companies reported that they were already operating in the cloud or planning to
move there imminently.
The video industry's cloud transformation was accelerated by the COVID-19 global health crisis.
Video streaming subscriptions passed 1 billion worldwide for the first time in 2020. During that
time, the cloud emerged as a remarkably resilient infrastructure compared with traditional
broadcast facilities from an accessibility standpoint. Moreover, cloud infrastructure offers a
scalable and flexible foundation for video streaming, enabling real-time scaling and a faster time
to market for new capabilities, including targeted advertising.
The transition to cloud infrastructure for video delivery and streaming will intensify in the years
to come. Let's look at five reasons why this transformation is happening and how Harmonic is
leading the charge with its VOS ® 360 cloud streaming platform and VOS Cloud-Native Software.
Cloud Business Model is Ideal for Streaming
Video streaming has become the dominant type of video consumption. Studies show that in the
U.S. and many other regions the audience for streaming video exceeds that of pay TV. By 2024,
consumers will spend more money on streaming services than traditional TV offerings.
Early adopters of the cloud found that the variable nature of streaming and its IP roots are a
perfect match with cloud infrastructure. The pay-as-you-go business model of cloud also suits
streaming, enabling service providers to only pay for what they use. There is no need to
predetermine capacity.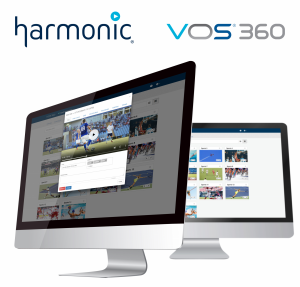 The cloud business model is ideal for new streaming services, allowing them to start small and
grow over time. Cloud is also perfect for pop-up channels that are only available for a few days,
weeks, months, or a year.
Harmonic's cloud offering includes the VOS360 platform, a fully managed solution that runs on
the public cloud. As an end-to-end platform, it simplifies all stages of media processing and
delivery. Using this platform, operators can deliver exceptional video quality from source to
screen. It speeds up the creation of linear channels, live events and streams, direct to
consumers or syndication partners while giving operators creative control over content ingest,
scheduling, playout, encoding, monetization and the creation of channel variants, with real-time
agility. Harmonic's worldwide DevOps team provides 24/7 monitoring and assistance to ensure
the highest service availability.
Harmonic also offers VOS Cloud-Native Software for private data centers, which operates
seamlessly on a wide range of commercial off-the-shelf hardware and virtualization layers,
enabling operators to easily move video platforms from a private data center to the public cloud
as business requirements evolve.
Cloud is Infinitely Flexible and Scalable
On-premises infrastructure has limitations. For instance, with an on-prem infrastructure, service
providers need to pre-estimate peak usage to ensure there is enough compute and storage.
The cloud is fundamentally flexible and scalable, eliminating the prerequisite for estimating
resources.
With the cloud, streaming providers and content owners can deliver an infinite volume of live
events, channels and subscription VOD to a global audience. If viewership increases, the cloud
will enable service providers to adapt, with scale up and down technologies, in real time, helping
to address a growing demand.
Scalability is especially critical for live sports streaming. Media companies around the globe are
adopting cloud for live sports delivery, using Harmonic's VOS360 platform. With the VOS360
platform they can launch new video streaming services quickly, serving millions of subscribers
and offering an outstanding quality of experience during the world's biggest sports tournaments.
The ability to scale on the fly and serve millions of concurrent viewers during these events
validates that the cloud is built for rapid scaling.
With Harmonic's VOS360 offerings, streaming providers and content owners can add new
services and channels instantly, adjust services as needed and remove services as soon as an
event is over.
Targeted Advertising is Homegrown in the Cloud
According to eMarketer, connected TV ad spending is expected to reach $18.29 billion by 2024
in the U.S. Targeted advertising will be a fundamental part of the business model for streaming
media in the future, and the entire targeted ad ecosystem resides in the cloud, which is another
reason why the video industry is moving toward cloud infrastructure.
Harmonic's VOS360 platform offers advanced targeted advertising capabilities powered by
dynamic ad insertion (DAI) technology. With DAI, service providers can deliver the best ad for
each individual viewer on any device to optimize monetization.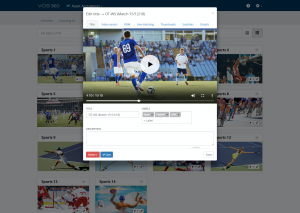 Cloud is a Must for Content Personalization
The video industry is seeing a shift to video workflows in the cloud, as the demand for content
personalization grows. Through content personalization, video service providers can transform
their business. However, content personalization requires the use of analytics, data, and AI,
which consume a significant amount of storage and compute. Cloud is a perfect fit.
Content personalization may include local and regionalized sports, channel variants for different
audience demographics and multi-views for live sports. Harmonic's VOS360 platform is
empowering video service providers to reach a broader audience, boost viewer satisfaction and
increase overall viewing time by supporting personalized streaming experiences.
Cloud is Reliable
Reliability is a key requisite for streaming, especially live events. Cloud infrastructure has
proven that it is just as reliable as traditional broadcast and can help streaming providers and
content owners meet the explosive demand for streaming.
Cloud is progressing to the point where video service providers can now unlock additional levels
of reliability not possible with traditional architecture. For example, Harmonic's VOS360 platform
offers geo-redundancy, with data centers distributed across multiple geographic locations. Geo-
redundant clouds are synchronized and ensure higher availability for streaming, as well as
simpler maintenance and upgrades. In addition, it is cloud-neutral, meaning it can run in any
cloud environment, adding another layer of protection against outages and downtime.
Conclusion
A surge in streaming during the COVID-19 global health crisis accelerated the adoption of
cloud-based infrastructure within the video industry. By unlocking the power of the cloud,
content owners and service providers can launch new revenue-driving services, including
personalized content, targeted advertising, regionalized sports and channel variants. With the
cloud, service providers can also boost video workflow efficiencies and ensure the highest
service availability. The result is not only new and superior-quality viewing experiences, but also
more lucrative business models.
Harmonic's VOS cloud offerings have played a crucial role in video industry's pivot to a cloud
environment, powering millions of simultaneous streams, thousands of live channels, countless
VOD requests and streams hundreds of petabytes for leading service providers around the
world.
For more information on the benefits of adopting cloud solutions for video streaming and how to
utilize Harmonic's VOS cloud streaming offerings, visit www.harmonicinc.com
ENDS